The race took place in Conyers, Georgia on October 7th. We arrived one week early to see what Atlanta had to offer, which we were not disappointed at all. There was a lot of cool things to see and do.
My training for this 24 hour race has very good and had been doing a lot of work and now it was time to show and tell. I was so fired up the week leading to the race and was well rested and firing on all cylinders. I even lost some weight the last few weeks leading up to race day. I pre rode the course on Friday and was figuring around 50 minutes lap average.
We arrived Saturday morning early to set up and get things in order. We talked about strategy and what the plan was going to be, and get nutrition down and guess what my needs would be. I tried to take a nap but just was to excited to get going. It was time to put the bike in the racks and get ready for the Lemans start. And we were off. I tried not to go to hard and just keep it under control but when feeling this rested it's hard. So onto the the bike and hammer away. The first 6 laps were around 45 minutes per lap and I was holding steady and still felt good. I was eating a lot and drinking a lot of fluids. It started to get real tough after the 11 hour mark and my lap times were falling. My wrists were starting to swell up and it was getting very difficult to hammer through the rough section of the single track. The course was really cool and had a lot of small climbing. Always seemed like you were either climbing or descending. At one point I was having to wrap ice around my arm to get the swelling down. I was still feeling ok and was surprised how good I did feel at 5 am. I am always so glad to see the sun come up knowing I have only a few hours to go. I tried to go as hard as I could but still could only manage 1:10 minute laps by this time. I just couldn't get up to speed without my arms feeling like they were going to fall of. I really never worried about my competition and just kept going as fast as I could for as long as I could. Well I ended with 24 laps total which was enough to take 1st place in my age group 30-34. I'm really happy with the win and will be confident going into my Ironman in Florida in three weeks. I would like to thank my wife, she is so amazing and supportive, Chuck who worked on the bikes and did an awesome job,
Granite Construction
,
Carb Boom
, Keith Day Trucking,
Recover Ease
, Bill & Bonnie Cruickshank,
Hayes Disc Brakes
,
Fiber Wise Pasta
, and my whole family for all your support and love.
Before the race...
During the race...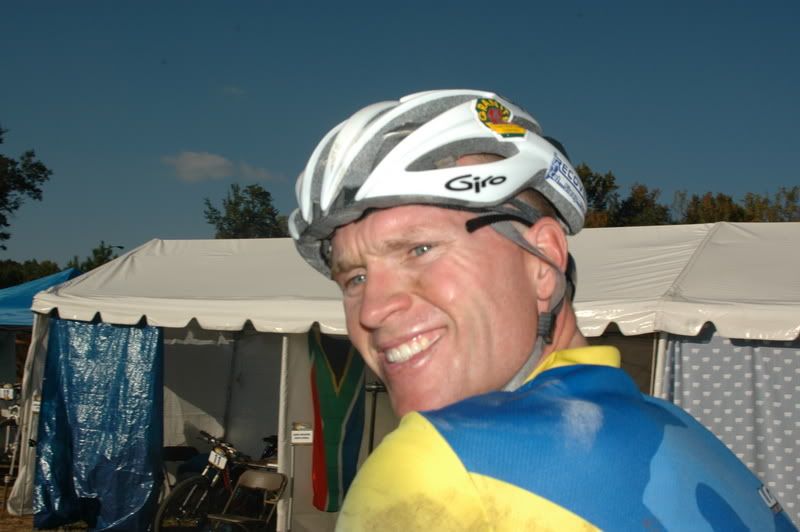 The big finish!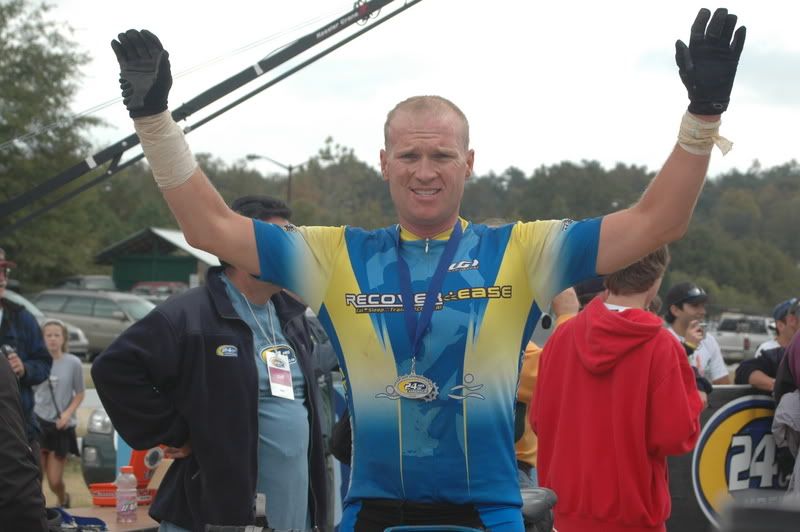 Podium
The aftermath...